Ovih dana se vodi velika bitka za istinu: je li cijepljenje djece učinkovito, je li štetno, obolijevaju li osobe manje od zaraznih bolesti ako su cijepljene ili ako nisu, trebamo li se svake godine cijepiti protiv sezonske gripe…? Nažalost, zbog velike količine podataka i logičnih zaključaka koji iz tog proizlaze, naša udruga koja se naziva "Prirodna medicina" ne može biti nepristrana. U prirodi nema cijepljenja, cjepiva su prepuna umjetnih spojeva koja ne postoje u prirodi, a najčešći postupci cijepljenja (putem injekcija) zaobilaze prirodni unos tvari u organizam (putem želučano-probavnog trakta, udisanjem ili apsorpcijom preko kože).
U ovom ću članku pokušati prenijeti istraživanja koja pružaju uvid u pravo stanje stvari.
1. Dr. Paul G. King (http://dr-king.com) napravio je studiju kao odgovor na provakcinacijske stavove (http://www.forbes.com/sites/stevensalzberg/2012/07/23/anti-vaccine-movement-causes-the-worst-whooping-cough-epidemic-in-70-years) u kojima se tvrdi kako su za nova izbijanja epidemija hripavca (pertusisa) u SAD-u odgovorni oni koji se nisu cijepili. Jer kao zbog velikog broja necijepljenih nije ostvarena zaštita za cjelokupnu populaciju za koju je kao potrebna procijepljenost od najmanje 95%. Istina je obrnuta, kao prvo umjetna vakcinacija eventualno štiti oko 3 godine osobe od bolesti (dok prirodan doticaj s bolesti doživotno), a kao drugo stoji podatak kako je "više od 75% slučajeva oboljevanja zabilježeno kod potpuno procijepljene populacije" (u državi Washington od 2002. do 2012.).
Reference:
http://dr-king.com/docs/120806_PGKDrftRevu_Anti_vaccineMovementCausesTheWorstWhoopingCoughEpidemicIn70Yrs_fnlr2b.pdf
http://www.naturalnews.com/044636_vaccine_myths_pertussis_whooping_cough.html
2. Postoje studije koje pokazuju da su cijepljena djeca češće bolesna od necijepljene. To su studije iz Novog Zelanda iz 1992. i Nizozemske 2004.g.
a) Novozelandska anketna studija pokazuje sljedeće rezultate (s 226 cijepljene i 269 necijepljene djece):
| | | | | | |
| --- | --- | --- | --- | --- | --- |
| | cijepljena djeca | 226 | necijepljena djeca | 269 | |
| | broj djece | postotak | broj djece | postotak | omjer |
| astma | 34 | 15% | 8 | 3% | 5 |
| ekcemi | 63 | 28% | 34 | 13% | 2 |
| infekcije uha | 56 | 25% | 16 | 6% | 4 |
| tonzilitis | 26 | 12% | 3 | 1% | 10 |
| tonzilektomija | 12 | 5% | 0 | 0% | ― |
| apnea | 14 | 6% | 4 | 1% | 4 |
| hiperaktivnost | 13 | 6% | 4 | 1% | 4 |
| dijabetes | 0 | 0% | 0 | 0% | 0 |
| epilepsija | 4 | 2% | 0 | 0% | ― |
| slab razvoj motorike | 6 | 3% | 4 | 1% | 2 |
Kao što se vidi, necijepljena djeca su daleko zdravija od cijepljene, te kod njjih uopće nema epilepsije, a još je k tome astma 5 puta manje prisutna.
b) Nizozemska anketna studija iz 2004. pokazuje sljedeće rezultate: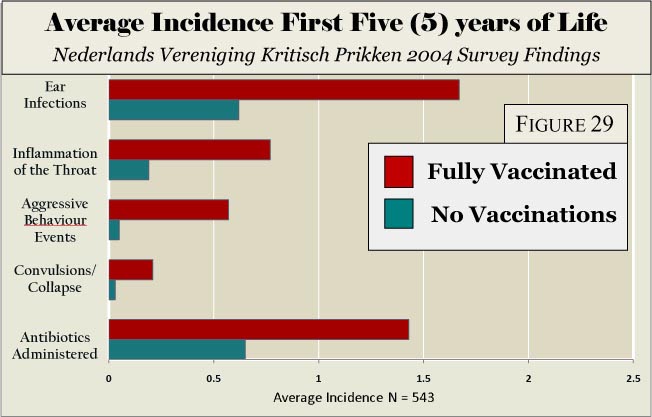 Uočava se veće pobolijevanje djece od bakterijskih infekcija i potrebe za njihovim liječenjem antibioticima.
c) Zanimljiva je i studija s Novog Zelanda iz 1997.g  (Is infant immunization a risk factor for childhood asthma or allergy? – Kemp T, Pearce N, Fitzharris P, Crane J, Fergusson D, St George I, Wickens K, Beasley R.) koja pokazuje kako djeca koja nisu bila cijepljena od difterije, hripavca i tetanusa (DPT cjepivo) i poliomijelitisa (dječje paralize) nisu oboljela od astme, dok je incidencija te iste bolesti kod cijepljene djece visokih 23%!
Reference:
http://origin.library.constantcontact.com/download/get/file/1101240076659-1720/Unvacc+New.pdf
http://www.naturalnews.com/044650_vaccination_children_chronic_disease.html
http://www.thinktwice.com/Dutch.pdf
http://content.yudu.com/Library/A1qkh1/VaccinationHistorica/resources/31.htm
http://www.ncbi.nlm.nih.gov/pubmed/9345669
3. Nedavno je objavljeno istraživanje o utjecaju zagađenja živom na broj oboljele djece od autizma u različitim krajevima SAD-a. Ono je pokazalo da više djece poboljeva od autizma i od autizma sličnih poremećaja (ASD), te od nižeg nivoa inteligencije (intelectual disability – ID) što je neko područje zagađenije živom. Veza s cjepivima je ta da iako se danas tvrdi da u cjepivima nema više zloglasnog timerosala (sadrži živu) (nap. – ali kako industrija cjepiva ne podastire podatke o sastojcima u cjepivima, upitno je da li cjepiva uistinu više ne sadrže živu), pokazalo se da su imali pravo oni koji su bili ismijavani o povezanosti žive u cjepivima i autizma. Iako od niti jednog liječnika nećete saznati što se sve nalazi u cjepivima, pouzdano se zna da se u cjepivima nalaze: fetusne stanice, bjelančevine iz jaja peradi, virusi (npr. zloglasni SV40), aluminij, formaldehid (otrov), antibiotici, mononatrijev glutaminat (kancerogeni MSG), timerosal, …, a u novije vrijeme i aspartam (bojni otrov).
Reference:
http://www.ploscompbiol.org/article/info%3Adoi%2F10.1371%2Fjournal.pcbi.1003518
http://www.dailymail.co.uk/news/article-2581663/Growing-evidence-autism-linked-pollution-babies-283-likely-suffer-condition-compared-birth-defects.html
http://www.environmentalhealthnews.org/ehs/news/2013/pollution-and-autism
http://www.naturalnews.com/044649_mercury_pollution_autism_flu_shots.html
http://www.cogforlife.org/vaticanresponse.htm
http://www.cdc.gov/vaccines/vac-gen/additives.htm
http://www.rense.com/general59/vvac.htm
4. Podučavani smo da vjerujemo kako su cjepiva iskorijenila nekad opasne zarazne bolesti kao što su polimijelitis (dječja paraliza), tuberkuloza, difterija, velike boginje, bjesnoća, tetanus,…, a istina ne može biti dalje od toga. Dokazi su potkrijepljeni statistikom:
U doba kad je uvedeno cjepivo, mnoge su zarazne bolesti skoro u potpunosti jenjale zbog boljih higijenskih uvjeta, čišće vode, bolje kanalizacije, suhih i toplih stambenih prostora, … Dovoljno je shvatiti da ako ne postoji strogo kontrolirana vodovodna instalacija, da je dovoljna jedna uginula životinja bačena u bunar koji koriste ljudi za piće i pripremu jela, pa da se ukućani razbole.
Ako bolje pogledate šest grafikona s bolestima vidjet ćete kako za dvije bolesti uopće nije primijenjeno cijepljenje, a da smanjenje te bolesti ima istu ili sličnu krivulju smanjenja incidencije.
Reference:
http://www.med.uottawa.ca/sim/data/Infectious_disease_decline_e.htm
http://content.yudu.com/Library/A1qkh1/VaccinationHistorica/resources
5. Do skora nisam znao da postoje dvostruko slijepe studije koje obrađuju cijepljenje. Dvostruko slijepe studije su jedan od postulata današnje (konvencionalne) medicine (tzv. Evidence Based Medicine). Postavka je takva, da ako je cijepljenje tako izvrsno za cjelokupno čovječanstvo, da onda ne bi bilo pravedno da se nekome uskrati cjepivo samo zbog znatiželje za učincima istog. Naravno da je to nonsens, pogotovo danas kad nikad nije bila jača svijest o štetnosti cjepiva, te da bi bilo više nego jednostavno naći dovoljno osoba (djece ili odraslih) koje se ne bi cijepile, te koje bi bile kontrolna skupina prema cijepljenoj skupini (naravno to ne bila dvostruka slijepa studija, ali to nije ni bitno jer su zagovaratelji cijepljenja čvrsto uvjereni kako učinci cijepljenja nisu pod uticajem placeba).
Ali, postoji jedno zanimljivo istraživanje provedeno u Indiji tijekom 15 godina (cijepljenje pomoću BCG cjepiva protiv bakcilnog oblika plućne tubekuloze od 1968. do 1971., završeno 1987., a objavljeno 1999.). U tri skupine cijepljenih bilo je 281.000 osoba koji su dobivali:
visoku dozu cjepiva (0,1 mg na 0,1 mL),
nisku dozu cjepiva (0,01 mg na 0,1 mL) i
placebo.
Nakon 15 godina, od tuberkuloze je po skupinama oboljelo:
189 osoba
191 osoba
180 osoba.
Konačni zaključak studije je da BCG cjepivo nije ponudilo nikakvu zaštitu od tog tipa tuberkuloze (Indian journal of medical research 110 august 1999 pp.56-69).
Referenca:
http://icmr.nic.in/ijmr/2013/march/ijmr_classic3.pdf – kod nekih se web browsera dokument ne da učitati, ovdje možete preuzeti PDF: http://prirodna-medicina.hr/staro/pdf/ijmr_classic3.pdf
6. Još jedna zanimljivost za kraj je ta da se konvencionalni imunolozi grčevito bore za "znanstveno" objašnjenje kako je cijepljenje svrhovito tako što se njegova učinkovitost dokazuje povećanom proizvodnjom antitijela kod cijepljene osobe.
Dakle, tekst koji to objašnjava ide ovako (prijevod s engleskog):
"Jedini znanstveni argument ikad ponuđen od strane medicinske industrije u prilog vakcinaciji je da vakcine potiču proizvodnju antitijela. Ponovit ću: jedini argument ikad ponuđen od strane medicinske industrije u prilog vakcinaciji je da vakcine potiču proizvodnju antitijela.
Ali, vladine statistike, medicinske znanstvene studije, izvještaji od strane FDA (Savezne uprave za hranu i lijekove) i CDC-a (Centar za kontrolu bolesti SAD-a), sve to pokazuje da je od cijepljenja potaknuta proizvodnja antitijela bespomoćna protiv bolesti".
(Količina antitijela nije garancija zaštite od zaraznih bolesti.)
Zbog svega navedenog ću podržavati sve osobe iz medicinskog i društvenog života naše Republike Hrvatske i cijelog svijeta koje kritički promišljaju i preispituju dogme (poput obavezne vakcinacije) jer znanost je ta koja stalno postavlja pitanja i nikad se ne umori sve do logičnog odgovora i objašnjenja na postavljeno pitanje.
Treba isticati kao svjetle primjere osobe u Hrvatskoj poput dr. Lidije Gajski (http://www.hlk.hr/LN – LN br. 103 od 15.10.2011.; http://www.scribd.com/doc/174830787/Gajski-Ocitovanje-disciplinski-15-10-2012), dr. Željka Poljaka (http://udruga-kameleon.hr/IMG/pdf/zeljko_poljak_cijepljenje_da_ali.pdf), dr. Mladena Smoljanovića (http://www.slobodnadalmacija.hr/Hrvatska/tabid/66/articleType/ArticleView/articleId/79323/Default.aspx), dr. Srećka Sladoljeva (http://www.slobodnadalmacija.hr/Hrvatska/tabid/66/articleType/ArticleView/articleId/170227/Default.aspx), dr. Đulu Rušinović-Sunaru (http://www.pravapacijenata.hr), dr. Luciju Tomljenović (http://prirodna-medicina.hr/staro/pdf/lucija-tomljenovic_vakcine.pdf), dobrog doktora iz Dubrovnika Nikolu Viskovica (http://prirodna-medicina.hr/staro/pdf/niko-viskovic_cijepljenje.pdf) te mnoge druge pojedince i udruge, kao i mnoge svjetske medicinske autoritete (http://www.vaccinationcouncil.org/2011/02/13/vaccines-get-the-full-story).
Jer najlakše ja zabiti glavu u pijesak i primati svoju plaću, a kudikamo je teže biti pošten i iskren, te javno iznijeti svoje stajalište, a pogotovo kad se to dijametralno kosi s prevladavajućim mišljenjem.
Završit ću riječima izrečenim u knjizi doktorice imunologije Tetyane Obukhanych "Iluzija cijepljenja: kako cijepljenje kompromitira naš prirodni imunitet i što možemo učiniti kako bismo ponovno uspostavili zdravlje (Vaccine Illusion: How Vaccination Compromises Our Natural Immunity and What We Can Do to Regain Our Health):
"U vrijeme svog doktorskog studija bila sam oduševljena konceptom vakcinacije, kao svaki tipični imunolog. Međutim, nakon godina istraživanja u imunologiji, razmatrajući znanstvene aktivnosti svojih nadređenih i analizirajući teme vezane uz cijepljenje, shvatila sam da je vakcinacija jedna od najvećih izmišljotina kojima je znanost obmanula svijet".